Alfa Anderson is an R&B/Dance music icon whose voice helped define an entire era of popular music, as one of the original lead vocalists of the Rock & Roll Hall of Fame nominated Chic. Now, to the delight of fans around the world, Anderson has returned with the release of her debut solo album, Music From My Heart.
"This collection of music that I have written, called Music From My Heart is very special to me," Anderson told Salute. "I collaborated with Bert Price, who is my co-producer and co-writer, and it's a labor of love."
Anderson's musical career began in the '70s, working with some of the industry's most talented vocalists and musicians, including Roy Buchanan, Herbie Mann, Nat Adderley, and legendary record producer, Quincy Jones. It wasn't until she began working with the late Luther Vandross, that she was introduced to Nile Rodgers and Bernard Edwards of Chic.
She would sing background on the group's first two singles, and after joining Chic on tour was promoted to lead vocalist in 1978. The group's second album, C'est Chic, was a critical and commercial tour de force. It featured Anderson's two solo numbers, "At Last I Am Free" and the gold-selling single, "I Want Your Love."
Anderson and renowned session vocalist Diva Gray both sang lead on "Le Freak," Rodgers and Edwards' ode to the legendary disco hot-spot, Studio 54. The song not only became Chic's most successful single but, for more than 30 years, was the biggest-selling single in Atlantic's history.
Now, more than four decades since her musical career began, Anderson has returned with her long-awaited debut solo album, Music From My Heart, which features Anderson's heartfelt tribute to her longtime friend, Luther Vandross, powerful ballads such as "Sending You Love" and sizzling club tracks like "Dancing is my Release" and "Perfectly Chic."
"It's my tribute to Nile Rogers and Bernard Edwards, the guys who actually gave me the opportunity to sing on such classic hits that they're still being reintroduced to a new generation of people," Anderson said.
Salute Magazine was delighted to have the opportunity to speak with the "former lady of Chic" about her long-awaited solo album, the future of dance music, the importance of honing your craft and plans for the future.
SALUTE: How did it feel to be nominated for the Rock and Roll Hall of Fame? Do you think the band will be inducted in 2018?
ALFA: The first time I heard it, I was thrilled; and each time I hear I get thrilled. But not winning kind of gets blasé after a while.
Not to speak disparagingly about the great Susan Lucci but at one point, I said we're the Susan Lucci of awards because she was nominated a lot for All My Children before she finally received [an Emmy for] it.
I don't know whether or not we'll get it. Niles was able to get in as a producer this year and that was a wonderful wonderful thing. I was very excited for him. Hopefully, the group will be recognized and when it comes, if it comes, it will be just as sweet.
What was it like to work alongside such influential musicians like Nile Rodgers and Bernard Edwards?
Nile and Bernard are geniuses. I'm even more convinced of that now because of the longevity of their music.
When I first went to record with them, I hadn't heard of either of them. I was introduced to them by Luther Vandross who was a sessions singer in New York and it was one of the sessions that he called me to do. And when I got there, they were playing. I sang background on the first Chic album, and I sang background on "Dance, Dance, Dance." And I absolutely loved the music. It was so different from what I was expecting that I just immediately fell in love with the music. I said "Oh, wow. Wouldn't it be wonderful to be part of this group?" And it had happened actually when Norma Jean Wright, who was the original lead singer, went on to do her first solo album.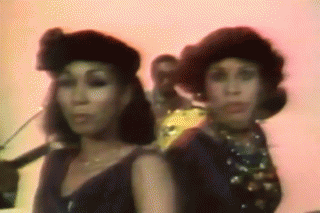 They asked me if I would stay on and join Luci Martin as one of the lead singers of the group. I was thrilled to be able to do that. And to watch them work, to watch them create their magic. To work with people who had a clear vision. Not only for the music, but they had a clear vision for the sound; they had a clear vision for the stage presence and what they wanted us to look like. It was wonderful. It was a type of professionalism that I definitely love and have emulated since then.
After Chic dissolved in 1983, you went on tour with Luther Vandross as part of his backup band. What influence did the late R&B singer-songwriter have on your music? What inspired you to record "When Luther Sings"?
Luther had a great impact on me vocally. He was one of the co-creators of the Chic vocal sound. That unison singing that we did was definitely co-crafted by Luther Vandross. He was able to take what Nile and Bernard wanted and articulate it in such a way… you know there are people who are just magical at that. You go into a studio and a producer or a writer can tell you what they want, but it's up to the artist to make that come to life. And Luther was very, very adept at making that come to life. And then teaching us, working with us to make that come to life. So, he had a great influence on me vocally.
When I worked with him, the difference is he believed in lots of harmonies. Beautiful harmonies and background parts that were just special. I mean he created and elevated background singing to an art form. And that's one of the things I really loved about him.
Because he was so influential in my career, I wanted to do a tribute song to him because he was not only a mentor but a really good friend with a voice par excellence and unparalleled.
When I was thinking about doing my CD, I was thinking I might want to do a Luther cover… when in the wee hours of the morning it occurred to me, "don't do a cover, write a song about what Luther meant to you." And I started going through my head and I was going through songs, the first thing that came to me was "when Luther sings, it's so amazing to be loved." That just came to me in a shot. That's why I wrote it because had it not been for him, I don't think I would've been catapulted into this arena. From there I met Nile and Bernard, and so there were Chic and there were other productions that I got a chance to sing on because of Luther and Nile and Bernard's Chic productions.
Those three people meant so much to me. And I wanted to sort of let them know how much they meant to me, and still mean to me, and how grateful I was to be able to be a part of them; to be a part of their learning experience and to be a part of them, so that I could have a wonderful learning experience about music.
With the surging popularity of Electronic Dance Music and artists like Todd Terje reinventing disco, do you feel that dance music is making a comeback?
I think so, but you know what, I don't think it ever went away. I just think it always reinvented itself. Whether it was house [music], or whatever. It's always been around. It just went underground after "Disco Demolition" it just went underground and kept reinventing itself. And I love that. I think as life progresses and more people begin to discover all types of music, all genres of music, one of the things that they do is that they build on what came before but add their own twist to it. And I absolutely love when people do that. That is the height of creativity to me.
Few people may know how over the years you've appeared on countless records with artists such as Bryan Adams, Mick Jagger, Teddy Pendergrass, Bryan Ferry. Who was your favorite to work with and why?
I recorded with them, but I wasn't always on stage with them. But the one I did record with and did happen share to stage with was Bryan Ferry. So, of those names, he would be the one who fits both categories. Not only the recording but also the on stage performing, so hand's down, Bryan Ferry.
In the late 90s, you and your husband [Tinkr Barfield] created the band Voices of Shalom, which explored spiritual themes through uplifting and original compositions. Do you consider yourself to be religious?
I consider myself to be spiritual. And I've definitely had some experiences in what you would call religion. That was during the time when I was on the healing journey. And a healing journey, for me, embraces all parts of me: my mind, my body, and my spirit.
Spirituality is something that I am very close to and that I feel all the time. It's something I can see in the sun, I can feel it in a gentle rain, I can feel it in a breeze. I can see it when a child is laughing and through the eyes of children as they discover in amazement the world around them.
How have you kept your voice in such tip-top condition?
Wow. I've been singing… and I never stopped singing. Well, I did for a moment. For a moment I felt like there was no space for me in the industry anymore, and then I realized it didn't matter if there was space in the industry or not. That my voice is my voice and my voice is my gift and if singing made me happy then I was going to sing.
So, I've been singing a lot and I'm just about to get back into my vocal coaching because I think that is very, very important. And I will say to any aspiring singers, young people that are out there, you must always hone your craft. Always hone your craft. Because I am about to start my lessons again.
There are so many people who are unconsciously gifted and talented, and that's where it begins, but then you must become consciously gifted and talent and that's part of studying and honing what you're doing. That's when you become a consciously gifted and talented artist.
You've been performing for quite a long time. What made you decide to release your debut solo album now, in 2017?
I know, isn't it something? Well, I felt like I had something to say. Life happens every day. The present creates the future. The past helps create the future so it was like everything I was doing all along, whether it was working on Voices of Shalom with my husband or whether singing with other people around, whether or not doing a chorus at my school and working with kids and just humming along to the radio, was preparing me for this moment. And as I used to always tell my students about going on and getting their college degrees, all people want to know is, can you do what you say you can do? It doesn't matter how long it takes you to get there."
My message is that I have been prepped and prepared for this moment for quite some time. And the time and timing just happened to be right for me. And I embrace that and I am grateful for that.
Any plans to tour?
I definitely would like to do some live appearances. Right now, there is no tour. But I am definitely interested in performing and bringing my messages and sending my love to people. I don't want it to be stuck here inside of me. I want to be out on the stage.
I had my first concert, as a matter of fact, a week ago at Joe's Pub [in Manhattan] and I absolutely loved being on the stage. I wasn't quite sure how it was going to go because it has been quite some time, but I found that I really have a passion and a love for live performance. Support live music everybody.
I would love to do that and when that happens I will definitely make sure that everybody knows about it.
This collection of music that I have written, called Music from My Heart is very special to me. I wrote every song, it's self-penned. I collaborated with Burt Price who is my co-producer and co-writer and it's a labor of love. I'm very happy about it and from all of the press that I'm getting about it, people seem to like it a lot, so I would like to thank everyone who has supported me and invite people to check out my current work and thank you for supporting me for all these years.
For more, be sure to check out Alfa Anderson's debut solo album, Music From My Heart, available now on iTunes, CDBaby and streaming music services.